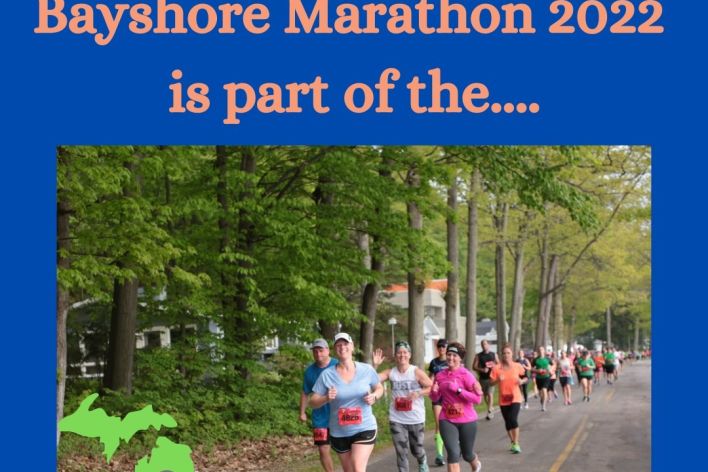 Bayshore Marathon Half and 10K
May 28, 2022
Tickets
Traverse City Track Club Bayshore Marathon & Half Marathon, 10K
Traverse City, MI USA
May 28, 2022 Traverse City Track Club announces that the 40th annual Bayshore Marathon, Half Marathon and 10K will be an in-person event.
(Traverse City MI) – The Traverse City Track Club is preparing to open registration for its 40th Anniversary Bayshore running events on the traditional date of Memorial Weekend, Saturday, May 28, 2022.

Registration for the 40th Bayshore Marathon, Half Marathon, 10K, and Munson Healthcare Bayshore Kids Fun Run will open on December 1, 2021. Special anniversary capacities will allow anniversary runners in the marathon (26.2 miles), half marathon (13.1), and 10K (6.2 miles) for the 2022 event.

Capacity for each event will include those who had been guaranteed a spot after cancellation of the 2020 and 2021 Bayshore events. The Traverse City Track Club also guaranteed a spot to those who donated their 2020 entry fee, new registrants who are 2020 club members, charity partners, and Munson Healthcare partners. "As usual, Bayshore 2022 is expected to quickly reach its caps, especially now that we can return to in-person racing." Said Traverse City Track Club Executive Director Lisa Taylor.
"Having the Bayshore events once again in 2022 is not only a relief to runners from all over the country who have missed the in-person Bayshore for two years, it's also important to our community," added Taylor.

Each year, the approximately $250,000 profit from successful Bayshore events is used to support membership, and donated back to the Traverse City area community in the form of grants, scholarships and planned giving. To date, charitable giving to non-profit organizations that align with the club's walking/running mission has exceeded $2 million.
Bayshore Marathon, Half Marathon,10K
Traverse City, Michigan
Founded in 1983 by local running enthusiasts who wanted to share the beauty of the Grand Traverse Region and the Old Mission Peninsula, the Bayshore Marathon has become a "must run" for runners throughout the Midwest and beyond. Many runners return year after year to enjoy the scenic courses which run along the shores of beautiful Grand Traverse Bay. Bayshore events feature a 10K, half marathon and full marathon. To ensure a more enjoyable experience, the number of runners in all three races is limited. Bayshore races are held on Saturday of Memorial Day Weekend.