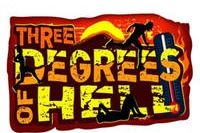 Untitled event
TBD
Tickets
Three Degrees of Hell Jul, 2022 (TBD)100 - 500 participants Boulder City, Nevada Trail Other 7k7mi
Race Details
Three Degrees of Hell
July 9-10, 2021
Bootleg Canyon, Floyd Lamb, and Whitney Mesa!
It will be a HELL of a good time!! Come run three races and earn up to four medals!! You earn one medal for each race and a fourth if you do all three!! We are sticking with the "Lucky in Vegas" theme with the numbers 7 and 21! This race begins on the 9th day of the 7th month at 7 PM. Runners will either run a 7K or 7-miler during each race. If you run all three, you will have run a Lucky 21K or Lucky 21-miler! Awards will be given out from 1-7th place! The first race takes place on the trails in beautiful Bootleg Canyon at 7 PM (Boulder City.) The second race takes place at 7 AM on the trails in the breathtaking Floyd Lamb Park in Las Vegas. The final race takes place at 7 PM at majestic Whitney Mesa in Henderson. After the last leg of the race, we will have swim party at the Whitney Outdoor Pool (subject to change due to Covid), same parking lot as Whitney Mesa. Just grab your swimsuit and walk over! The pool party will go from 8:00-10:30pm.