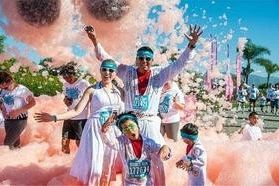 The Bubble Run 5K
April 16, 2022
This is where you'll find all of the information you will need for race day and the days leading up to it. Please plan on arriving 60-90 minutes prior to your wave start to give yourself plenty of time to park, get your Bubble RUN™ swag, check in if needed, and get situated.
Packet Pick UpParkingCourseRace DayVolunteer
*If you are unable to attend Packet Pickup on the day right before the race, it will be reserved for you on Race Day for a fee. There is a $5.00 fee per packet, per paid participant on Race Day, cash only. To avoid paying this fee, please attend Packet Pickup in person the day prior, or send a friend with a copy of your race barcode.
Friday - April 15, 2022
Hours: 11AM - 7PM
Road Runner Sports
1835 Newport Blvd
Costa Mesa, CA 92627