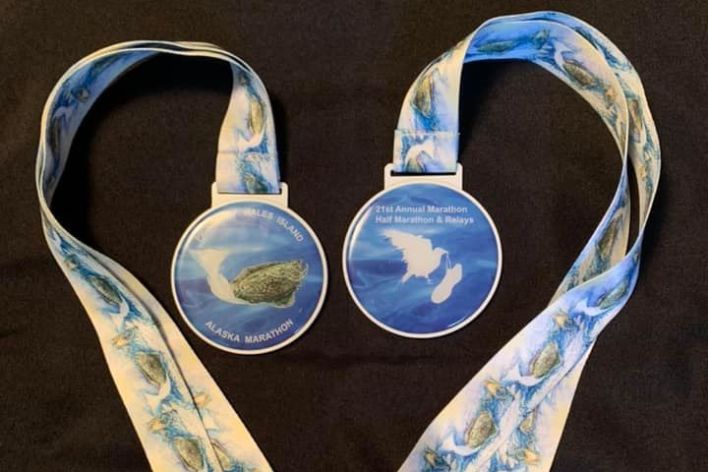 Prince of Wales Island International Marathon & Half Marathon
May 28, 2022
Tickets
Prince of Wales Island International Marathon & Half Marathon; 4- & 8-Person Relays
Craig, AK USA
May 28, 2022
Weather
Prince of Wales Island is located within the temperate Tongass National Rain Forest, providing excellent running and walking conditions. Typically, temperatures at the start of the race are in the low fifties and may even climb up to the mid-sixties by early afternoon. One race day did provide us with temperatures that reached the low eighties by mid-afternoon – a truly rare experience. Rain is always a possibility; however, partial sun, cloudy skies, and light mists have more often been experienced on race day.
Course Support
There are fifteen aid stations located along the out-and-back marathon course, providing intensive support in the form of hydration as well as lemon drops, fruit, other forms of nutrition, along with an abundance of moral support and good cheer. Aid stations are also supplied with basic first aid supplies and clothing drop bags. Aid stations compete for our coveted traveling trophy each year, making their efforts to serve all participants go way beyond that proverbial extra mile. Support vans constantly cover the course and provide rides to relay participants along with other needed support. Four EMT crews are on the course throughout the day to address more intensive medical needs.
Event Details
Course Description
Our out-and-back course starts at the backdrop of the Sunnahae Mountain at Craig High School (map) and heads north along the Klawock Channel, through the village of Klawock, turning left at the Native clan house, and proceeding along Boundary Road, which turns into Big Salt Lake Highway, and affords views of some of our most majestic lakes, clear streams, and muskeg areas. The middle, more mountainous portion of the full marathon course presents challenges, but equally inspires participants with Southeast Alaska's natural beauty. The out-and-back half marathon course follows the full marathon course but does not venture into this more mountainous portion. Wildlife sightings are not uncommon on race day. Aid stations on the course will close at 4:00 p.m. on race day. The Prince of Wales Island Marathon is the standard marathon distance of 26.2 miles and is USATF certified, #AK14007FW. Race times may be used as time qualifiers for the Boston Marathon.