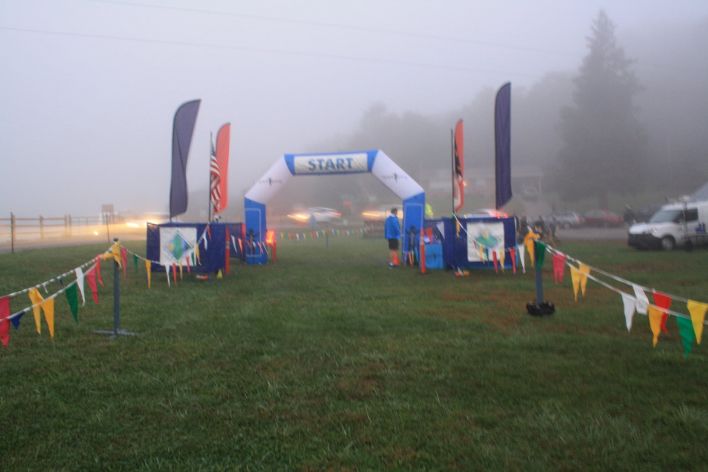 New River Marathon & Half Marathon, 5K
May 14, 2022
Marathon Course Notes:
The Start and Finish Lines for Marathon are located on the grass lawn adjacent to the Riverside Restaurant.
The course is predominantly paved with 2 dirt/gravel road sections:

The first section (Mile 4.5 – 4.75) is flat, adjacent to the New River.
The second section follows a private right-of-way along Call Creek (Mile 17.8 – 18.8).

Race Flow:

Start – Mile 3.7: A flat run on asphalt along the New River
Mile 3.7 – 3.9: A short out-and-back into the Todd Community. You will be directed to "Run on the Right" for this short section.
Mile 3.9 – 4.9: You'll run the flat section of Big Hill Rd, which also includes 1/4 mile gravel section.
Mile 4.9 – 6.1: Changing gears as you run the "rolling" hills on Big Hill Rd. (+125 ft, -125 ft) However, you will not have the "pleasure" of the road's namesake.
Mile 6.1 – 8.1: Back to the scenic valley along the river and River Rd (+13 ft).
Mile 8.1 – 8.8: Climb to 3231 ft, the highest elevation on the course (+244 ft).
Mile 8.8 – 10.0: Enjoy the long recovery downhill as you drop back to the river valley (-271 ft).
Mile 10.0 – 17.5: Flat along the New River as you progress toward downtown Fleetwood (-83 ft).
Mile 17.5 – 17.7: A short climb as you depart the river valley and enter an enchanting private gravel lane along Call Creek.
IMPORTANT: Mack Woodie Dr (Mile 17.7 – 18.8) is a private, gravel right-of-way and can only be accessed during the New River Marathon. DO NOT attempt to run or drive this section outside of NRM.
Mile 17.7 – 18.8: Only +29 ft on this scenic stretch as you prepare for the final uphill of the course, but the one short, steep incline may give the perception of a greater gain.
Mile 18.8 – 19.3: Final uphill on the course (+196 ft)
Mile 19.3 – 20.2: Long and final downhill of the course. RUN ON THE RIGHT for this downhill section. There is a blind turn on the left and roads are open to community traffic.
Mile 20.2 – 26.2: Final stretch in the flat river valley to the FINISH!

Support Stations: approximately every 2 miles. Refer to the Race Day Logistics page for details.