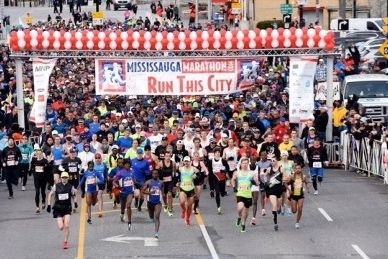 Mississauga Marathon & Half Marathon, 10K, 5K
May 1, 2022
Experience a run for everyone to kick off the 2022 event season!
The Mississauga Marathon has become one of Canada's premier running events over the past two decades. We have created a unique experience for each and every participant of all ages and abilities while at the same time encouraging healthy, active lifestyles, community involvement and charitable giving.
Marathon
May 1, 2022
A scenic course that takes in all of Mississauga's beauty. A fast and net downhill, point to point course. Starting at Celebration Square/City Hall you will find yourself crossing over the Credit River to Mississauga Road. The University of Toronto's Mississauga Campus, Mississaugua Golf and Country Club, and beautiful residential neighbourhoods will lead to the picturesque Lake Ontario Waterfront Trail finishing at Lakefront Promenade Park.