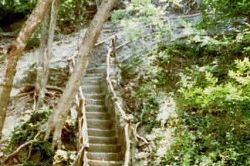 Miracle Match Marathon & Half Marathon, 10K, 5K,
January 30, 2022
Mile 23 – Emmon's Cliff
Don't you love a course with words like "cliff" and "leap" We do. Emmons is highlighted by rolling parkland filled with cedars and oaks. The funny thing is, when we searched for photos online of Emmon's, we mainly found EMS rescues. Hmmmm…..
Cameron Park Clubhouse
The historic Clubhouse sits atop a bluff above the Brazos River. With white columns, reception rooms, outdoor decks and sitting areas (again, not an excuse to rest), the Clubhouse is ideal for weddings and events. Just not resting. Move on to the finish line.
Mile 24 – Jacob's Ladder & Rock Shelter
Climbing this bizarre, one-of-a-kind staircase is one of the park's most beloved challenges.
Originally built with wood in the early 1900s, Jacob's Ladder now includes nearly 100 zigzagging steps to the top. There's a jalepeno at the bottom, beer and chocolate at the top. If you're lucky, you might even get a bacon hand up.