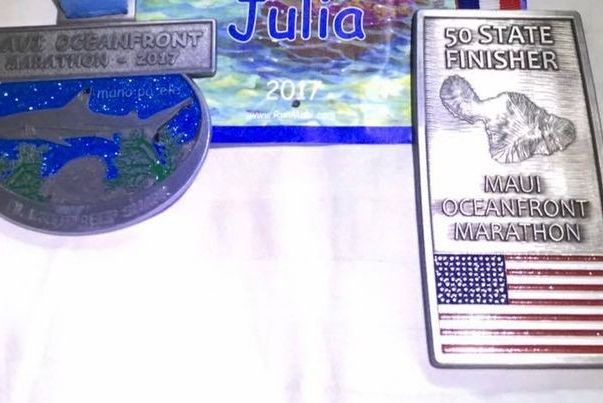 Maui Oceanfront Marathon & Early Start Marathon, Half, 15K, 10K, 5K
January 16, 2022
There is free Parking at the Prison St. Parking lot a block from the start/finish line.
Which is the corner of Front and Prison, a block from the start line.
The Maui Oceanfront Half Marathon is an out and back starting at the Marathon finish line at Kamehameha Iki Park in Lahaina.

The finish line park is oceanfront about two blocks south of the Pioneer Inn, Banyan Tree and Lahaina Harbor.

See the Time Line for race start time, number pick up and shuttle bus schedule.

There are 3 Waves: A Wave is fastest 100 expected times, B Wave and C Wave are random by last names keeping families together. You can not win the race outright unless you are in the first Wave with the other fast runners. Start with the right group.

All 50 State Finishers will be wearing bib #50 and may start in any Wave they wish.

Bib #1-10 are are large Charitable Contributors and may also start at the front of Wave A.

The Shuttle Bus schedule is on the back of your race number.

The Half Marathon runs south along the oceanfront to the turn around point.