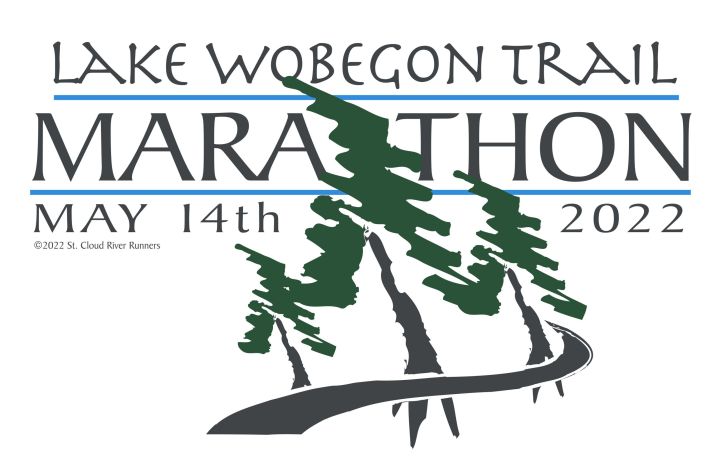 Lake Wobegon Trail Marathon
May 14, 2022
RACE INFORMATION
START: Start is 7:00 a.m. on May 14, 2022 at the Holdingford High School. Runners will head west from the Holdingford High School for one mile and join the Lake Wobegon Trail 3/4 mile north of the Holdingford Trail Facility. Runners will run through the towns of Holdingford, Albany, Avon, and St. Joseph. The race finishes at the Trail Facility in St. Joseph.
COURSE: The course is flat, fast, and picturesque. The course is certified (USATF #MN-19001-TRR) and is a Boston Qualifier. Many people feel that the trail from Holdingford to St. Joseph is the prettiest portion of the Lake Wobegon Trail. The trail is primarily rural except as it passes through the four small towns along the route. In a post on the "A Prairie Home Companion" website, Garrison Keillor said this about the Lake Wobegon Trail: "I've biked the bike trail … and love the ordinary beauty of farmland and meadow and the towns along it."
The Lake Wobegon Trail is a 10 foot wide asphalt bike trail on a former railroad track. The trail is smooth and has no cant. There is very little elevation change at any time along the entire length of the course. You cannot get lost on this course. Runners join the trail after one mile and then simply follow the trail to the finish. There is only one turn on the entire trail where the trail 'T's' at about 11.2 miles and runners go left at the 'T'.
The finish line will close after six hours. Water stations will close at intervals of 13:44 per mile from the start. We do not want to leave runners unsupported on the course. Therefore, runners who are not able to maintain at least a 13:44 minute mile average pace will be transported to the finish line by volunteers from the next water station. If you do not know whether you will be able to maintain at least a 13:44 minute mile average pace throughout the race, then unfortunately this is not the race for you.
WEATHER: The average high for St. Joseph on May 14 is 67 degrees. The average low is 42 degrees. The sunrise is 5:48 a.m.
SAFETY: The trail crosses public roads and private drives at a number of points along the trail. Most of these crossings will not be controlled and state law requires that runners must yield to vehicles. Runners should use caution at all trail crossings. The race is a running race only. For safety reasons, wheelchairs, hand-cycles, strollers, inline skates, bicycles, etc. are not allowed. Running with pets is also not allowed.
PACERS: All of our pacers are experienced consistent runners who will not only help you meet your goal but make sure that you have fun doing it!
WATER STATIONS: Tentatively water stations will be located an average of 2.0 miles apart on the course with the furthest distance between water stations anticipated to be 3.0 miles apart. Tentative water stations are at miles: 1.7, 4.0. 5.5, 7.6, 9.9, 12.7, 15.7, 18.1, 20.4, 22.2, 23.4, and 25.3. Gatorade will be available at all water stations.
TOILETS: Holdingford High School and Trail Facilities at Holdingford (mile 1.7), Avon (mile 18.1), and St. Joseph (finish) have toilets and water fountains. There will be a portapotties located at miles 7.6, 9.9, and 12.7.
SPECTATORS: Space and parking is limited at most water stations. Water stations are generally located adjacent to public roads and often not safe locations for children. Friends and family are encouraged to spectate from the Trail Facilities in the towns of Holdingford, Albany, Avon, and St. Joseph.
FINISH: Technical finisher shirts and finisher medals will be awarded to all runners who complete the course within the six hour time limit. Pizza, fresh baked cookies, and other refreshments will be provided to all runners at the finish.
TIMING: The race will be chip timed by Pickle Events.
AWARDS: Awards will be presented to the male and female overall and masters winners and to the top three male and female finishers in each category: 18-24, 25-29, 30-34, 35-39, 40-44, 45-49, 50-54, 55- 59, 60-69, and 70+
REGISTRATION: The 2022 race is limited to 500 runners. Entry fee is $70 by September 30; $80 by November 30; $90 by December 31; $100 by January 31; $120 by March 31; and $130 by April 30. Registrations will be accepted only until April 30. There is a small additional fee charged to entrants for online registration. NO RACE DAY REGISTRATION. Entry fees are nontransferable, nondeferable, and nonrefundable.
PACKET PICKUP: Race bibs, timing chips, and drop bags may be picked up at Resurrection Lutheran Church, 610 County Road 2, St. Joseph, MN 56374, just north of the LWTM finish line, from 4:00 to 7:00 pm on Friday, May 13, or before the start at the Holdingford High School between 5:45 and 6:45 a.m. on race morning. We strongly encourage runners to pick up their packets on Friday to avoid delays on race morning.
DROP BAGS: Drop bags may be left in the designated trailer at the Holdingford High School and will be returned to the finish area for runners.
TRANSPORTATION: Runners may park at the finish at the St. Joseph Trail Facility before the race and ride a bus to the start at the Holdingford High School. The buses will leave the St. Joseph Trail Facility beginning at 5:30 a.m. with the last bus leaving promptly at 6:00 a.m. No other transportation will be provided to the start. NO TRANSPORTATION WILL BE PROVDED BACK TO THE START FROM THE FINISH AFTER THE RACE so do not leave your vehicle at the start.