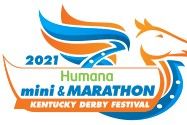 Humana Kentucky Derby Festival Marathon & Half Marathon, Marathon Relay
April 30, 2022
---
The Race will look a little different this year…
The modified race will take place in-person and will offer the same distances (13.1 & 26.2 miles), but will have some changes as part of the health & safety precautions we're taking to provide a secure race experience.
These changes include:
An entirely new and unique course for the 2021 Humana miniMarathon & Marathon, that will better allow for social distancing
Staggered start times that are pre-scheduled, to allow runners to socially distance
The miniMarathon length (13.1 miles) will take place over the course 4 days, from April 22-25, while the Marathon length (26.2 miles) will take place on April 24 only.
There will be course time limits for both miniMarathon & Marathon, to ensure social distancing remains throughout your Race Experience. (See below for details.)
Traditional course support will be minimal, but we will be providing self-serve water stops, time tracking, and start and finish line support.