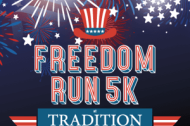 Freedom 5K Run at Tradition
July 2, 2022
RACE WEBSITE
Additional race information can be found at https://traditionfreedomrun.com/.
PLACESW Tradition Square
Port St. Lucie, FL US 34987DESCRIPTION
Join us on Saturday, July 2nd for the Inaugural Freedom Run 5K at Tradition!
Come celebrate America's Independence with a morning full of running, food & patriotism!
The race takes place on Saturday, July 2nd at the Tradition Square. The 5K will start at 7:00am with a free kids run starting at 7:45am!
This chip timed 5K includes live tracking at each mile, performance T-Shirts, flashy finisher medals & a 20 second clip of you crossing the start/finish line!
Join us as we run through beautiful Tradition on the USATF Certified Turkey Trot at Tradition's Course, ID FL21039JK. This course is fast, flat and perfect for a mid-summer PR!
Awards will be given to the top 3 male & female finishers in each category:
Overall
Masters (40+)
10 & Under, 11-15, 16-19, 20-24, 25-29, 30-34, 35-39, 40-44, 45-49, 50-54, 55-59, 60-64, 65-69, 70+
Chip timing is being provided by Southern Timing, LLC. All participants will receive live results complete with live tracking and split times at each mile, an individual results page complete with your results breakdown, downloadable & sharable finisher certificates and a 20 second video of you crossing the start & finish line!
Once you've registered you can register to receive text updates of your progress on the course! Use the link below to sign-up! (Please allow up to 48 hours after registration to sign-up)
https://register.chronotrack.com/event/tracking/eventID/65943
This event is being hosted by the Southern Timing Foundation, Inc. a registered 501(c)(3) organization EIN 85-3628015. If you are interested in sponsoring this event please reach out to us at info@southerntimingfl.com or (954) 304-3240