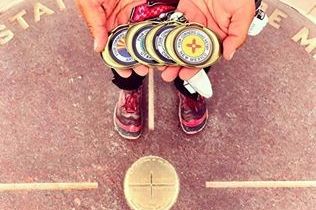 Four Corners Quad Keyah Marathon
December 2, 2022
Tickets
Four Corners Quad Keyah Marathon - Day 2 & Half Marathon
Teec Nos Pos, AZ USA
December 2, 2022
OURSE – [Courses for the races are subject to change, based upon the discretion of park officials,
race organizers and the weather.]
Each day's race will begin and end in the same distinct state, offering runners a chance to
complete four marathons in four states in four days. Runners may choose to compete on a trail
or a one-mile paved option each day. The routes consist of a variety of terrain and scenery, and
offer runners a variety of experiences. Routes may be adjusted by race organizers due to
weather conditions and other factors, and are subject to change.
The Arizona and New Mexico trail routes will utilize a 5.75 mile trail/dirt road course, which
runners will complete four times, with a 3.2 mile out-and-back for the final distance. Utah will
feature a 3.75 mile loop course, including some challenging singletrack in the beautiful
surrounding canyons. Colorado will have a scenic and very runnable 5.2+ mile trail course that
runners will complete five times.
The loop nature of the events will allow runners to have regular access to their personal kit
and to course support – food, heated space, medical support and live music.