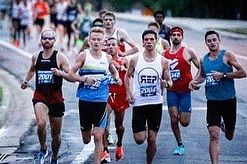 Desert News Classic Marathon, Half & 10K
July 23, 2022
Tickets
Full Marathon Details
Saturday, July 23, 2022
We are looking forward to the 2022 Races. At this point, we are making plans to have all four races (marathon, half-marathon, 10k, and 5k) on Friday, July 23rd. This will be a special year, focused on overcoming challenges and returning to normal activity and gathering as a community of runners. We will be publishing information in the next few months as COVID protocols and restrictions change and develop.
First run in 1970, the Deseret News Marathon is the oldest road race in Utah and the 4th oldest marathon west of the continental divide. The marathon follows the path the Utah pioneers traveled when they first entered the valley. This event is truly a part of Utah's heritage!
The Deseret News Marathon begins at the top of Big Mountain above Emigration Canyon, descending a 3,200 foot total elevation drop. The beautiful course finishes through downtown Salt Lake City along the Days of '47 Parade route where runners are greeted by over 100,000 cheering Utahns! The marathon course is USATF Certified and a Boston qualifier.