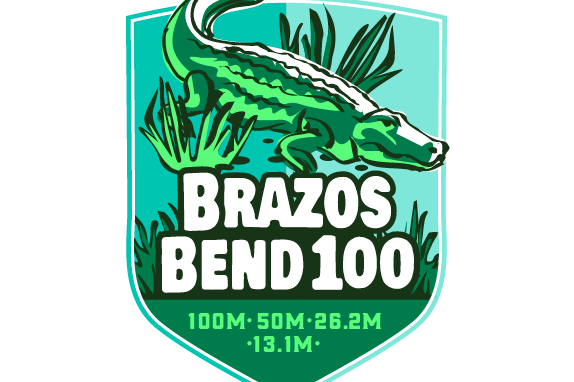 Brazos Bend Marathon & 100 Mile, 100M Relay, 50 Mile, Half Marathon
December 3, 2022
Tickets
Brazos Bend Marathon & 100 Mile, 100M Relay, 50 Mile, Half Marathon
Needville, TX USA
December 3, 2022
BRAZOS BEND 100100 MILE, 50M, 26.2 MARATHON, AND 13.1 HALF MARATHON
DECEMBER 3-4, 2022BRAZOS BEND STATE PARK
Needville, TXL
We are thrilled and honored to announce that starting this year in 2021 the Brazos Bend 100 (100 mile distance) will be a Western States 100 Qualifying Race . By completing the race in under the 30 hours you gain a ticket into the raffle to run the oldest and most prestigious 100 mile race in the world.
WE ARE PLEASED TO ANNOUNCE THE 26.2, 50M AND 100M RACES ARE UTMB QUALIFIERS!
---
-WELCOME TO THE FASTEST TRAIL IN THE US
2019 PATRICK REAGAN FASTEST 100M ON A REAL TRAIL 12:21:432019 CALUM NEFF FASTEST 50K ON TRAIL IN THE YEAR 2:59:002016 CAROLINE BOLLER 50 MILE WOMENS TRAIL RECORD 5:48:012016 MAGGIE GUTERL 3RD FASTEST 100 MILE RUN IN THE US 14:47:0COURSE DESCRIPTION
The Brazos Bend course is the fastest trail in Texas trail running. The course is 99.9% flat, and the only hill is 10 feet. Other than that you will be running on flat surfaces that move from hard crushed rock, soft trail under canopy, and easy horse trails. The 50 mile will top out at 300 feet of gain total, and the 100 miler will have 600 feet of gain total.
The Start/Finish will be at the Elm Lake Pavilion.
100M : 6:00 am start - 6x16.74 mi loops
50M : 7:00 am start - 3x16.74 mi loops
26.2M : 7:30 am start - 2x13.8 mi loop
13.1M : 8:00 am start - 13.8 mi loop
ALL: Sunday 12:00 pm end - Cutoff All Races