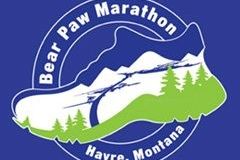 Bear Paw Marathon & Half Marathon, 5K
June 4, 2022
COURSE & COURSE SAFETY
The course is coned and marked very well, but it is open to traffic. There will be volunteers or police officers at most intersections. Please remain on the LEFT side of the road unless otherwise directed. Because the course is open to traffic, we recommend that all participants wear bright clothing to improve visibility.
We are still in the midst of a global pandemic so we ask that you wear a mask and social distance when you are not running. Please use the hand sanitizer that is provided and stay home if you are sick.
Music devices with headphones/earbuds are allowed. If you carry music, you must still be able to hear instructions from race officials; directions from course monitors; motorists that may have made their way onto the course; and, warnings from participants that may be overtaking you.
We ask that all faster participants yield right of way and go around when overtaking slower participants.
If you experience medical issues while on the course, please look for a volunteer or police officer.
If you have to drop out of the race, please let a volunteer at an aid station or law enforcement officer know and they will arrange for you to be transported.
All participants must be capable of completing the course in 8 hours. There will be no official time for anyone taking longer than 8 hours. Aid stations, traffic control, volunteers, etc. will relinquish their posts based upon the 7.5 hour completion time. If you are still on the course, you will be asked to move to the side of the road for the remainder of the route; and, to obey all stop signs and traffic signals.