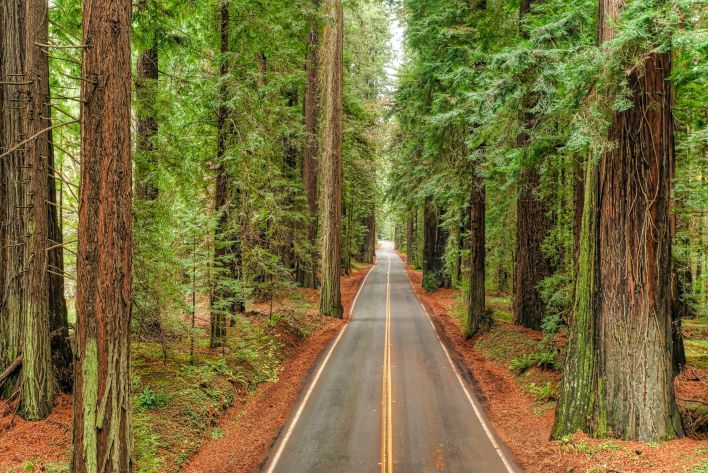 Avenue of the Giants Marathon & Half Marathon, 10K
September 19, 2021
The Course
As noted by Runner's World Magazine, The Avenue of the Giants Marathon is one of the most scenic courses in the country. Staged on "The Avenue of the Giants" in Humboldt Redwoods State Park, located in rural Northern California, the paved course winds through giant old growth redwoods and follows Bull Creek in one direction and the Eel River in the other.
A double out and back entirely on paved roads. The roads are lined with 300 feet tall old growth Redwood trees. While these provide shade and keep temperatures cool all morning, please note that they sometimes block out GPS signal on running watches.Early in 1972 the running scene in Humboldt County was just starting to boom. Hunboldt State had recruited a number of outstanding runners, some of them national class in caliber. The Six Rivers Running Club had just been formed and was putting together a series of races for its members.
A number of local runners were looking for a marathon to run which would give them a chance to qualify for the 1972 U S Olympic Trials and others were simply looking for a local marathon. Thus in early May of 1972 the Avenue of the Giants Marathon was born. The Club decided that the Avenue Of The Giants area in Humboldt Redwoods State Park would be an ideal site for a marathon. The area was relatively flat, with a few interesting hills; the scenery was unsurpassable; and traffic control would be no problem.
Early May would be an ideal time to hold a marathon there. The weather would be warm, but not hot; and hopefully the rainy season would be over. Because the Park would not be officially open for camping, the park personnel and the businesses in Southern Humboldt would be glad to get a little early activity. With all this going for it, perhaps this race would take on regional or even national significance. All that was for the future, however. The immediate task was to have a successful beginning.