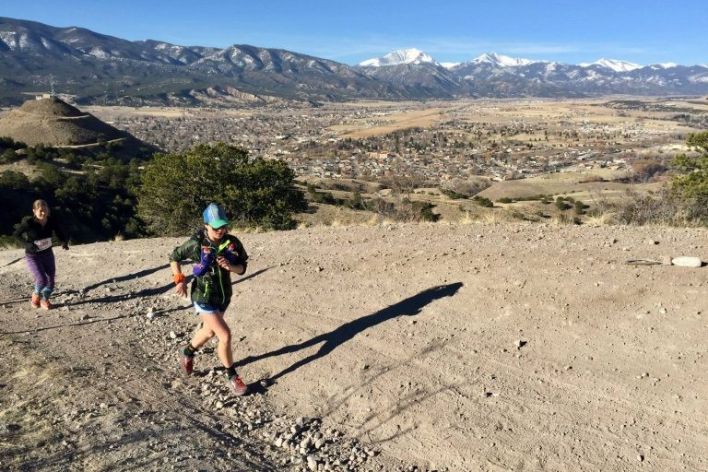 A Run Through Time & Half Marathon
March 12, 2022
Run Through Time Marathon – Updated for March 2021
8 miles dirt road, 7 miles rocky jeep trail/two track, 11 miles narrow singletrack trail. Low point of the course is 7000 feet, and the high point is 9050 feet.
Approximately 4,200 feet of climbing
Start time is from 7:30am – 8am. Runners will begin the race in groups of 25, with a 3 minute gap in between groups. Runners will self seed at the start line. There is a 7 1/2 hour time limit for all runners. There will be one time cutoff at mile 13.1, based on 7 1/2 hour pace.
3 aid stations (two accessed twice) with limited food choices, water, Vfuel, and Tailwind nutrition. Aid will be at miles 4.4, 11.6, 13.1, 19.8, 23.7
Participant limit: 235
Marathon course is the same course used from 2012-2015, and in 2019
Our starting line will be on CR 177, which is the road north of the railroad tracks at the base of S Mountain. Course will head northwest along 177 and then turns right and uphill to a water tank. Turn left at the water tank to CR 175, turn left to CR 177 or the road north of the railroad tracks, and head back to the starting line and up a hill towards the Frontside trailhead. This section of the course is nice packed dirt roads and paved highway with little elevation gain. Take advantage of this to space out before the single track.
The course will then head up the Frontside trail and continue on the Lil' Rattler Trail. You will then reach the first Aid Station at 4.4 miles into the race. Leaving the aid station, you'll head up CR 173, and very shortly afterwards turn left on the North Backbone Trail. This is a 3 mile stretch of rolling single track that will very likely be snowy/icy and muddy at times. At the end of this trail you'll reach CR 175.
Race will then head up CR 175 – this is an uphill section of approximately 4.6 miles on a plowed dirt road. This section of the course is where you will see the most vehicle traffic – some of whom drive faster than the posted speed limit. Please be aware of vehicle traffic during this section and stay to the side of the road! You will reach Aid Station #2 at FR 181, at mile 11.6. Runners will head past the Aid Station for an out and back on CR 175. Make certain that the volunteer stationed at the turnaround can see your bib and records your bib number. After reaching the turnaround, head back down to the same Aid Station at FR 181 at 13.1 miles. If you do not reach this aid station by the time cutoff (3 hours, 50 minutes into the race) you will be pulled from the race and given a ride back to town by aid station staff.