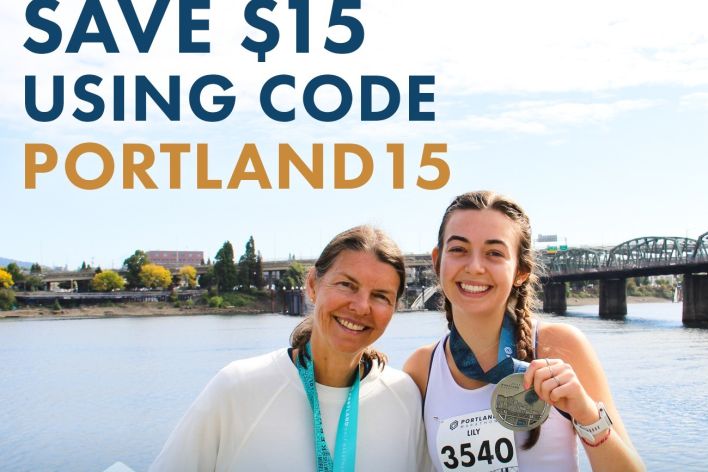 50th Portland Marathon and Half Marathon
October 2, 2022
Tickets
Portland Marathon START AREA
The staging area is located in the blocks of Waterfront Park between Salmon St and Columbia St along Naito Pkwy. Abundant restrooms will be available along with water and Nuun Endurance Lemon Lime. Runners will be entertained by music and awed by the sunrise on the banks of the Willamette River as they await the start of the race. Volunteers will be on-hand to answer questions and take care of last-minute needs. Medical personnel will be present to service unexpected medical needs.
For those who purchase the premium Race Morning Packet Pickup option, packets will be available in the designated tent in the Waterfront Park beginning at 4:30 AM. This will be located at the plaza fountain area at Salmon & Naito. Note that this option is only applicable for those who pre-purchase the service; all other participants are required to attend the Expo (or have a surrogate attend for them) to pick up their packets.
RACE START TIMES & STAGING PROCEDURES
Beginning at 6:40 AM all runners may line up in the start chute on Naito Pkwy.
Half Marathon runners will line up on Naito Pkwy south of Salmon St. Faster pace groups will stage closest to Salmon St and slower pace groups will stage farther south towards Columbia St.
Marathon runners will line up on Naito Pkwy north of Salmon St. Faster pace groups will stage closest to Salmon St and slower pace groups will stage farther north towards Morrison St.
Large markers denoting various paces will line the start chute and runners will be directed to queue in the zone which marks their expected pace.
Both races will begin, en masse, at 7:10 AM. There will not be waves or fixed corrals. All runners will remain in their start chutes as they turn onto Salmon St, which will be divided in half (half marathon on the south, and marathon on the north). The start line is located near the World Trade Center skybridge above Salmon St.
Portland Marathon 50th
COURSE
The Portland Marathon presented by OHSU Health event includes a full marathon as well as a half marathon. Both races start and finish at Portland's Waterfront Park at 1000 SW Naito Pkwy at the intersection of Naito Pkwy and Salmon Street. Both courses offer a fast elevation profile with the start/finish line only 36 feet above sea level, and a maximum course elevation of just 178 feet.
QUICK INFO
Race Date: Oct. 2, 2022
Expo: Saturday, October 1, 2022, from 9:00 AM to 6:00 PM at the Oregon Convention Center
Start Time: The marathon and the half marathon both begin at 7:10 AM
Course: See course maps
Parking: The start and finish lines for both the marathon and half marathon are located at 1000 SW Naito Pkwy. This Parking Map shows the parking facilities that surround the venue.